Host
Ian Ziering
Judges
Ben Vereen
Chris Judd
Vitamin C
Broadcast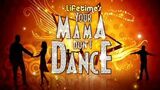 Lifetime: 2/29/2008-4/28/2008
Packagers
Bob Bain Prodcutions
City Lights Television
Your Mama Don't Dance (also known as Lifetime's Your Mama Don't Dance) was a short-lived, reality dance competition series pairing ten young dancers with one of their parents.
The dance world is about to be turned upside down! In this reality series, some of America's hottest dancers auditioned for a chance to be a part of a new dance competition show under the pseudonym "Dance Nation", but they had no idea what was really in store for them. They soon discovered that they'd be working with a partner and that their partner would be one of their parents! Now, five female dancers will be fox-trotting with their fathers while five male dancers will be doing the mambo with their mothers as they vie for praise from the judges and for America's votes. They must put aside their differences, not step on each other's toes and work together as a team to become the grand champions. Who decides the winners? The judges and you! Each week, the judges will put two teams with the lowest scores on the chopping block, then it's up to America to determine which team stays in the competition by voting via phone, text and online. The winning team will be announced on Friday, April 18, 2008. At the end of the show, following a live vote, and will take home the title and $100,000 in cash and prizes.
Pics of the Set
Edit
The title of the show is loosely based on a hit 1972 song performed by the rock duo Kenny Loggins and Jim Messina, which in turn has been covered by Elvis Presley as part of a medley in his 1974 album called Elvis: As Recorded Live on Stage in Memphis and by rock bands named Y&T and Poison in 1985 and 1988 respectively. 
Host Ian Ziering is best known for playing Steve Sanders on the hit FOX drama Beverly Hills, 90210.