Hosts
Jack Lescoulie (Pilot)
Bill Leyden (Series)
Dennis James (sub)
Monty Hall (sub)
Announcer
Wendell Niles
Broadcast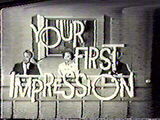 NBC Pilot: 1961 (as First Impressions)
NBC Daytime: 1/2/1962 – 6/26/1964
Packager
Monty Hall-Art Stark Productions
"In a few moments, behind our panel will see our famous mystery celebrity couple. Will it be: (insert four celebrity couples) or (insert fifth celebrity mystery couple). You'll find out when we play Your First Impression. Now here is your host Bill Leyden!"
Your First Impression was a short-lived daytime game show on NBC that had celebrity panelists attempted to guess the identity of an in-studio guest based on his/her initial reaction to single words or clauses.
Each guest sat behind the panel in a soundproof booth. Before the questioning began, the panel was shown five pictures, one of whom was the guest. The guest's responses wer relayed to the panel by the host. The panel was given two rounds of questioning before making their guess.
For the show's last thirteen weeks, the format was changed to a series of two mini-gamers. In one mini-game members of the studio audience attempted to identify a famous person's relatives from three candidates appearing on the show. And the other mini-game, they attempted to guess the identity of a mystery celebrity hidden in a booth behind the celebrity panel.
Here is a list of the celebrities that were a part of the panel:
Pat Carroll
Bob Crane
Nina Foch
Ross Martin
Dean Miller
Leslie Nielsen
Inger Stevens
Elena Verdugo
Betty White
Paul Winchell
Joan Crawford
Jane Withers
Jayne Mansfield
37th President of the United States, Richard Nixon
NBC Studio 2, Burbank, CA
Merchandise
Edit
A board game based on the show was released by Lowell in 1962.
YouTube Videos
Edit
Intro of a 1962 episode with Monty Hall hosting
Clip of Bill Leyden getting bit by Jayne Mansfield's dog