Host
Mark L. Walberg
Broadcast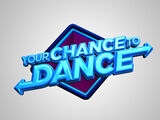 CMT: 7/23/2010-10/1/2010
Packager
The Gurin Company
Your Chance to Dance was a short-lived dance competition series where everyday people coming from all across America competed against each other with live performances of some of the most famous dance routines ever choreographed.
People across America will send in their homemade dance videos—tributes to their favorite movies, music videos, TV shows and commercials—in order to get the chance to pay tribute to that dance live on stage and maybe win $10,000.
Ad blocker interference detected!
Wikia is a free-to-use site that makes money from advertising. We have a modified experience for viewers using ad blockers

Wikia is not accessible if you've made further modifications. Remove the custom ad blocker rule(s) and the page will load as expected.