Host
Laura Baron
Broadcast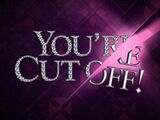 VH1: 6/9/2010-2/28/2011
Packager
Fly on the Wall Entertainment
You're Cut Off! was a two seasoned reality show where nine spoiled young women who've recently been "cut off" by their fed-up benefactors.
The nine spoiled princesses were told that they are stripped of all cash and conveniences and are forced to live like "normal people" in this "spoiled rotten rehab" where the ladies must complete daily chores while learning hard lessons from life coach Laura Baron as their transformation is about finding the confidence and independence to grow up and to realize that there's more to this world than marital wealth. But Laura comes hard on those that aren't keeping up and reminds the ladies that they better shape up if they want to graduate from the program.
Official Website of (Season 1)
Official Website of (Season 2)
Ad blocker interference detected!
Wikia is a free-to-use site that makes money from advertising. We have a modified experience for viewers using ad blockers

Wikia is not accessible if you've made further modifications. Remove the custom ad blocker rule(s) and the page will load as expected.