Hosts
Brian Schaffran & Dani Pajak
Judges
Alan Stulberg
Michael Woolaway
Roland Sands
Broadcast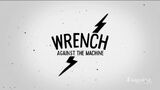 Esquire: 11/15/2016-present
Packager
Coolfire Studios
Wrench Against the Machine is a reality competition series where its the most grueling, seemingly impossible build challenge in the motorcycle world.
Each hour-long episode will have two teams of three expert builders battling head-to-head with only three days and $3,000 to transform basic stock motorcycles into rowdy, riding, works of art. Some of the most prestigious bike builders in the county will be putting their reputations on the line in the ultimate test of creativity and craftsmanship to impress head judges Roland Sands, founder of the highly esteemed motorcycle and apparel company Roland Sands Design, and two of the most revered names in motorcycle design Michael Woolaway, U.S. Director of Motorcycle Design for Deus Ex Machina and Alan Stulberg, Co-Founder and Chief Designer of Revival Cycles and the Handbuilt Motorcycle Show. The 72 hours of round-the-clock wrenching will take viewers deep into the teamwork, the problem solving and creativity of the process that brings these builders these bikes to life. New teams and new build challenges will be featured in each episode as fabricators will be tasked with building café racers, choppers, bobbers and beyond. At the end of the three days, the expert judges will test and evaluate the custom rides, crowning the winning team with the coveted "wrench" and the losing team's bike.
Ad blocker interference detected!
Wikia is a free-to-use site that makes money from advertising. We have a modified experience for viewers using ad blockers

Wikia is not accessible if you've made further modifications. Remove the custom ad blocker rule(s) and the page will load as expected.