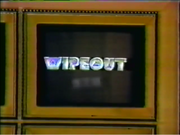 A "Wipeout" was a card hidden behind incorrect answers on the board from the short-lived 80s syndicated game show of the same name.
Usually in the first round, when any of the three contestants find the "Wipeout" spot, then they lost all of their money and control of the board which was then passed on to the next player in line.
If the contestant holding the hot spot uncovered a "Wipeout", the token was taken away and another answer was designated as the Hot Spot.
The design is basically the same as the logo of the show itself.
In one episode, Tomarken accidentally referred to the "Wipeouts" spots as "Whammies" from his other hit signature 80s game show Press Your Luck.
Show appeared
Edit
Wipeout (1988-1989)
Ad blocker interference detected!
Wikia is a free-to-use site that makes money from advertising. We have a modified experience for viewers using ad blockers

Wikia is not accessible if you've made further modifications. Remove the custom ad blocker rule(s) and the page will load as expected.