Host
Bob Kennedy
Hostess
Lois O'Brien
Announcer
Ken Roberts
Broadcast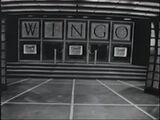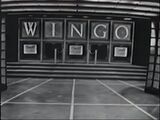 CBS Primetime: 4/1/1958 – 5/6/1958
Packager
Jantone Productions
ROBERTS: "Ladies and gentlemen, in the next few minutes, someone on this stage may win a fortune playing: W, I, N, G, O; WINGO! Brought to you by…" FEMALE ANNOUNCER: "Self, new end paper permanent waves without lotion! Self, I love my Self!" ROBERTS: "And now ladies and gentleman, your Wingo host, BOB KENNEDY!"
Wingo was a short-lived, six-week game show where contestants compete for $250,000.
Two contestants competed. At the start of each game, each contestant chose five letters from the Wingo board. The Wingo board had six of every letter used to spell the show's title. After that the quiz game began, and the winner of the game won $1,000 and the right to play the $250,000 Wingo bonus round.
To start the bonus round, the winning contestant was offered a cash buyout. If s/he refused, they then tried to match as many of the letters as s/he could to win some money. Here are the payoffs for each match:
| Hand | Award |
| --- | --- |
| One Match | $5,000 |
| Two Matches | $10,000 |
| Three Matches | $25,000 |
| Four Matches | $75,000 |
| Five Matches | $250,000 |
For the first two episodes, the prizes for the first two matches were $1,000 and $5,000, respectively.
Elliott Lawrence
Maxine Elliott Theater, New York City, NY
YouTube Link
Edit