Hosts
Alex Cord (as "West") & Lisa Guerrero (as "K.C. Coles")
Announcer
Joe Fowler
List of Outlaws
Sandy Berumen
Craig Branham
Tremel James
Lynn Jonckowski
Cheryl Lawson
Juddson Keith Linn
Jeff Manzanares
Kerry Maureen Mellin
Randall Oliver
Jason Reins Rodriguez
Con Schell
Broadcast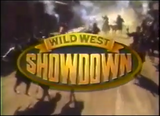 Syndication (Weekly): 10/1/1994-3/1995
Packagers
Four Point Entertainment/Samuel Goldwyn Company
Wild West Showdown was a short-lived, Western-themed weekly game show that featured three contestants living out their fantasies as "cowboys" in the old west while competing for cash prizes.
Set in the fictitious western town of Broken Neck, the cowboys competed in six events. The first three rounds were each worth $100 and the second three were worth $200. The player with the most money moved on to the "Final Showdown" for a possible $5,000.
List of Events
Edit
Some of the events from the show included:
Rawhide: in which a cowboy was dragged behind an outlaw horse and attempted to reach a release rope to break away in the fast time.
Stagecoach: where the cowboys rode a galloping horse, trying to catch up a runaway stagecoach. mount it and stop it.
Saloon Brawl: Where a player had 45 seconds to pull an outlaw out of the saloon in a one-on-one tug of war.
Water Tower: Similar to American Gladiator's "Wall" event, cowboys would have 45 seconds to scale a water tower and diffuse a bomb at the top of the tower while being chased by an outlaw. Cowboys and outlaws would begin on opposite sides of the tower.
Ambush: Similar to American Gladiator's "Assault", this event saw contestants run about the town while dodging enemy fire from up to 4 (or 5) outlaws. Cowboys were rewarded cash from each outlaw hit and could get a bonus from hitting every outlaw. Getting hit once by an outlaw ended the contestant's event.
Final Showdown
Edit
The "Final Showdown" bonus round was a run through the town, climbing over buildings to reach a bag of cash to get to a horse, to make a getaway through the town within a two-minute time limit without getting hit by outlaws shooting "paint bullets" at them.
Trade Ads
Edit
Press Photos
Edit
Screen pic
Edit
Based on an idea by Stu Schreiberg and Charles Segars
YouTube Videos
Edit
Another Clip of Wild West Showdown
Opening clip of the show