Host
Joan Lunden
Judges
Bobby Flay
David Evangelista
Candace Bushnell
Broadcast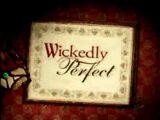 CBS: 1/6/05-3/5/05
Packager
LMNO Productions
Wickedly Perfect a short-lived reality fare in which twelve perfectionists compete to become "America's Next Greatest Stylemaker".
Twelve contestants with a creative knack for the finer things in life in a no-holds-barred competition to crown the country's new authority on at-home living where the winner who would be crowned after 30 days on the Connecticut estate will receive numerous prizes, including six appearances on The Early Show on CBS, a development deal for a lifestyle oriented television show and a publishing deal with Atria Books a division of the premiere publisher Simon & Schuster.
Host Joan Lunden was well-known for being a former co-host of ABC's Good Morning America from 1980-1997.
In 1986, she appeared on the board game cover for the Let's Be Safe! Game by Milton Bradley.
Joan is currently the official spokesperson for a national senior care referral service called A Place For Mom.
Ad blocker interference detected!
Wikia is a free-to-use site that makes money from advertising. We have a modified experience for viewers using ad blockers

Wikia is not accessible if you've made further modifications. Remove the custom ad blocker rule(s) and the page will load as expected.