Hosts
Mark McEwen & Gordon Elliott (1993)
Ant McPartlin & Declan Donnelly (2008)
Announcer (CBS version)
Mark Elliott
Broadcast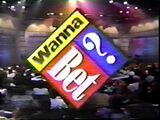 CBS Special (aired pilot): 4/21/1993

ABC Primetime: 7/21/2008 - 9/2/2008
Packagers
Four Point Entertainment/Gary H. Grossman Productions (1993)
The Gurin Company (2008)
Wanna Bet? is a game show which has elements of both Let's Make a Deal and Fear Factor. The show had various timed stunts, and a group of people would bet on whether the stunt could be done within a stated time limit.
CBS Version
Edit
ABC version
Edit
International Versions
Edit
Countries that did their versions of Wanna Bet? include:
China
Germany (country that originated the program)
Italy
Netherlands
Poland
Slovenia
Spain
United Kingdom
Plans for other countries to air Wanna Bet? include:
India
Northern Africa
Middle East
Based on the German game show Wetten, dass..? by Frank Elstner.
YouTube Videos
Edit
Ad blocker interference detected!
Wikia is a free-to-use site that makes money from advertising. We have a modified experience for viewers using ad blockers

Wikia is not accessible if you've made further modifications. Remove the custom ad blocker rule(s) and the page will load as expected.