Host
Monty Hall
Announcer
Kenny Williams
Broadcast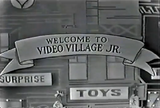 CBS Saturday Mornings: 9/30/1961 - 6/16/1962
Packager
Heatter-Quigley Productions
"And now to guide you through the highways and byways of Video Village Junior edition. Here is his honor, Mayor MONTY HALL!"
A short-lived kids' version of Video Village which essentially had the same format.
Based on Video Village by Merrill Heatter and Bob Quigley
Spin-Offs
Edit
Video Village - The original adult version from 1960-62
Shenanigans - Spinoff aired from 1964-65

YouTube Links
Edit
Ad blocker interference detected!
Wikia is a free-to-use site that makes money from advertising. We have a modified experience for viewers using ad blockers

Wikia is not accessible if you've made further modifications. Remove the custom ad blocker rule(s) and the page will load as expected.