Host
Hal Sparks
Judges
Jake Bronstein
Joy Giovanni
Sean Reiley (a.k.a seanbaby)
Broadcast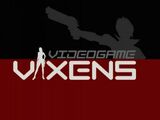 G4: 6/7/2005 - 6/28/2005
Video Game Vixens was a four-part digital beauty pageant special featuring famous female video game characters in which all of whom to be considered "the sexiest female video game character of the year".
Categories and Winners
Edit
Dressed to Kill—Kasumi from the Dead or Alive series.
Sexiest Finisher—Summer from Outlaw Golf 2.
Dirtiest Dancer/Video Game Vixen of the Year—Tina from the Dead or Alive series.
Most Dangerous Curves—Rayne from BloodRayne.
Biggest Guns-Ada Wong from Resident Evil.
Best Bounce—Reiko from Rumble Roses.
Best Booty—Lara Croft from Tomb Raider.
Kinkiest Accessory—Ivy Valentine from the Soul Caliber series.
Baddest Good Girl/Viewer's Choice Winner—Rikku From Final Fantasy X-2.
The special was originally going to be titled Girls Gone Wired in addition, the title itself is a parody of Joe Francis' video series franchise Girls Gone Wild.
Ad blocker interference detected!
Wikia is a free-to-use site that makes money from advertising. We have a modified experience for viewers using ad blockers

Wikia is not accessible if you've made further modifications. Remove the custom ad blocker rule(s) and the page will load as expected.