Host
G. Garvin
Broadcast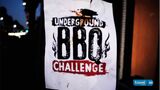 Travel Channel: 7/15/2014-9/7/2014
Packager
The Michael Group
Underground BBQ Challenge (Underground Barbecue Challenge) was a short-lived reality competition series where it pits neighborhood against neighborhood across the country in a epic BBQ cooking contest.
Host and acclaimed chef G. Gavin offers two teams of local grill masters a chance to prove they've got the chops to represent their town with the tastiest, most creatively cooked and presented BBQ. Garvin and two local judges decide which neighborhood's dish will win the Underground BBQ Challenge and the $10,000 prize.
Ad blocker interference detected!
Wikia is a free-to-use site that makes money from advertising. We have a modified experience for viewers using ad blockers

Wikia is not accessible if you've made further modifications. Remove the custom ad blocker rule(s) and the page will load as expected.