Host
Rob Nelson
Broadcast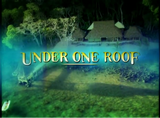 UPN: 3/21/2002 - 7/2/2002
Packager
Endemol USA
Under One Roof was short-lived reality show where five families compete against each other to win a beachfront house in Fiji.
In each episode, the families would win a number of ribbons based on their rank in the competition. Prior to the ribbon competition, another competition allowed the winning family to choose either an advantage in the ribbon contest, or a valuable prize. If the prize was selected, the second place family would receive the advantage. Every two episodes, the family with the least number of ribbons would be sent home and the scores would be reset so that all families would again be on an equal footing for the next elimination. The winning family was decided in a single head-to-head competition with no advantage competition.
Only two episodes of the show were aired before being yanked unexpectedly, though brought back as a filler for the summer run with one additional episode being shown before being cancelled again. Information on the winners of the show was never publicly released.

Ad blocker interference detected!
Wikia is a free-to-use site that makes money from advertising. We have a modified experience for viewers using ad blockers

Wikia is not accessible if you've made further modifications. Remove the custom ad blocker rule(s) and the page will load as expected.