Host
Mark L. Walberg
Broadcast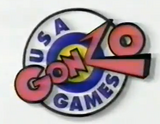 USA Network: 10/6/1991 - 3/29/1992
Packager
Stone-Stanley Productions
USA Gonzo Games was a weekly first-run, short-lived cable game show featuring contestants who were tested for endurance by participating in embarrassing stunts.
Some of the stunts included having contestants hold fifteen-pound torches up as long as they could and having contestants try to hold their balance while standing on a board over a pool as the hoses sprayed water at them to knock them into the water. Five players competed in the first round with the top-two players moving to the second round. The winner of the day received a trip.
YouTube Videos
Edit
Ad blocker interference detected!
Wikia is a free-to-use site that makes money from advertising. We have a modified experience for viewers using ad blockers

Wikia is not accessible if you've made further modifications. Remove the custom ad blocker rule(s) and the page will load as expected.