Host
Ty Murray
Broadcast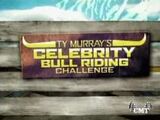 CMT: 8/10/2007 - 9/14/2007
Packager
Mess Media
Ty Murray's Celebrity Bull Riding Challenge was a short-lived reality series where the rodeo world champion mentors nine celebrities on the finer points in bull riding, leading up to a professional bull-riding event in Nashville.
Nine Celebrities train for 10 days on how to ride a bull, take a fall and ride a bull for eight seconds, then compete at a professional Bull Riders event in Nashville.
Host Ty Murray has been married to singer Jewel Kilcher since 2008.
Ad blocker interference detected!
Wikia is a free-to-use site that makes money from advertising. We have a modified experience for viewers using ad blockers

Wikia is not accessible if you've made further modifications. Remove the custom ad blocker rule(s) and the page will load as expected.