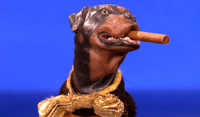 Triumph the Insult Comic Dog is a fictional character puppet dog who is puppeteered and voiced by Robert Smigel. He is best known for his insult comedy routine and likes to "poop on" people and certain topics. Triumph made his first appearance in 1997 on Late Night with Conan O'Brien. Since then, he has also done other shows with O'Brien such as TBS's Conan and The Tonight Show with Conan O'Brien. For game show appearances, Triumph appeared on Hollywood Squares twice; in 2000 when the show taped special shows in New York City and in the H2 era in 2004. Many of the Hollywood Squares 2000 footage was shown on Late Night where Triumph insulted and "pooped on" many of the celebrities, including Al Roker and Kathie Lee Gifford. Triumph also appeared in the auditions of American Idol in Hawaii as part of a segment on Late Night.
Shows Appeared On
Edit
Ad blocker interference detected!
Wikia is a free-to-use site that makes money from advertising. We have a modified experience for viewers using ad blockers

Wikia is not accessible if you've made further modifications. Remove the custom ad blocker rule(s) and the page will load as expected.