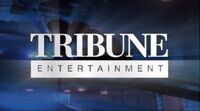 Tribune Entertainment was a television production and syndication company owned and operated by Tribune Broadcasting in the 1980s. Tribune Entertainment distributed Family Feud from 2001 to 2007. Tribune Entertainment also distributed To Tell the Truth from 2001 to 2002. When Family Feud reran the episodes on GSN from Richard Karn's era from 2002-2006 and John O'Hurley's first 3 years from 2006-2009, that logo was used. On December 18, 2007, Tribune Entertainment said that they will exit the program distribution business. Tribune Entertainment got replaced by Debmar-Mercury. As of March 19, 2013, it has been revived as Tribune Studios.
Ad blocker interference detected!
Wikia is a free-to-use site that makes money from advertising. We have a modified experience for viewers using ad blockers

Wikia is not accessible if you've made further modifications. Remove the custom ad blocker rule(s) and the page will load as expected.