Host
Laird Macintosh
Broadcast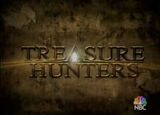 NBC: 6/18/2006 - 8/21/2006
Packagers
Imagine Television
Madison Road Entertainment
Magical Elves Productions
Universal Television
Treasure Hunters was a short-lived reality show in which teams of three solve puzzles and complete challenges in hopes of solving the ultimate puzzle and winning the grand prize.
Teams travel across the United States and Europe in search of seven "artifacts" which, when assembled, will "lead to the key. Find the key and find the treasure." The challenges and puzzles are spliced with American history and the ultimate goal is to find a hidden treasure leading the show to be compared on various occasions to the film National Treasure.
Series Results
Edit
10th Place - Team Young Professionals
9th Place - Team Grad Students (dropped out due to Jessica's injury)
8th Place - Team Wild Hanlons
7th Place - Team Brown Family (originally eliminated in 9th, but brought back due to Grad Students dropping out due to Jessica's injury)
6th Place - Team Fogal Family
5th Place - Team Miss USA
4th Place - Team Ex-CIA
2nd Place (tied) - Team Southie Boys
2nd Place (tied) - Team Air Force
Winners - Team Geniuses

The value of the treasure in this series was revealed on the season finale to be $3,000,000.
The show previously aired on Global in Canada.
Ad blocker interference detected!
Wikia is a free-to-use site that makes money from advertising. We have a modified experience for viewers using ad blockers

Wikia is not accessible if you've made further modifications. Remove the custom ad blocker rule(s) and the page will load as expected.