Host
Brooks Atwood
Lead Designers
Harry Dwyer
Gaylen Hamilton
Tim Sway
Tiffany Threadgould
Broadcast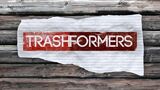 FYI Network: 7/10/2015-7/17/2015
Packager
Arrow Media
Trashformers was a reality series adaptation of the British series called Kevin's Supersized Salvage where it featured two teams of upcycling designers who have three days to transform large junk machine parts into smaller high-end products.
Host Brooks Atwood gives style and construction advice to the two teams (one lead by designers Tim Sway and Harry Dwyer and the other captained by Gaylen Hamilton and Tiffany Threadgould) and at the end of each episode a panel of retail experts assesses each team's creations. The team that created products with the largest total value is then crowned the winner.
FYI premiered the first two (of three) episodes of the series on July 10, 2015 while the final installment aired one week later on July 15, 2015.
The series title itself is a spoof of the classic cartoon/toy line/movie series Transformers.
Based on the British series Kevin's Supersized Salvage originally airing on British television network Channel 4 in 2014.
Ad blocker interference detected!
Wikia is a free-to-use site that makes money from advertising. We have a modified experience for viewers using ad blockers

Wikia is not accessible if you've made further modifications. Remove the custom ad blocker rule(s) and the page will load as expected.