Host
Alec Mapa
The Transgendered Bachelorette
Calpernia Addams
Broadcast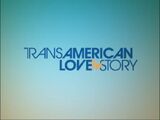 Logo: 2/11/2008-3/31/2008
Packager
World of Wonder Productions
Oh Really! Productions
Transamerican Love Story was a short-lived reality dating series in which eight potentials male suitors try to woo a transgendered bachelorette named Calpernia Addams where she must choose a suitor by process of elimination.
Similar to The Bachelor, eight eligible bachelors (straight, transsexual or pansexual) travel to Los Angeles to compete to be Calpernia's suitor. A bachelor is eliminated in seven of the eight episodes. While participating on the show, the bachelors live together in a mansion until they are eliminated. Calpernia eliminates the potential suitors when she has decided that they are not well suited for each other romantically. In each of the episodes, the bachelors are asked to participate in various competitions including:
Cooking a traditional southern meal.
Participating in a "boot-camp" style workout.
Perform a song.
Learning how to dance.
Meeting family members.
When a competition is won, a bachelor wins alone time with Calpernia in hopes of getting to know her better.
Zach Rosen of the Washington Blade praised the series, describing it as "refreshing for its lack of sensationalism".
the winner of the show was a 33-year-old concert promoter from Ventura, California named Shawn won Calpernia's heart.
In June 2008, more than two months after the conclusion of the series, Addams reported that she was seeing her potential suitor Shawn, on a casual basis.
Ad blocker interference detected!
Wikia is a free-to-use site that makes money from advertising. We have a modified experience for viewers using ad blockers

Wikia is not accessible if you've made further modifications. Remove the custom ad blocker rule(s) and the page will load as expected.