Cast
Kristen Acimovic
Giulio Gallarotti
Alison Bennett
James Manzello
Patrice M. Harris
Nico Elicerio
Broadcast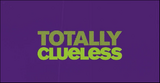 MTV: 10/22/2012-11/30/2012
Packagers
One Louder Productions
Magilla Entertainment
Totally Clueless was a short-lived, hidden camera game show in which unsuspecting contestants win money by realizing they were played.
In each episode, the team of stellar improv actors, playing a variety of memorable characters would take contestants on an surreal and hilarious hidden camera roller coaster ride. As seemingly harmless encounters escalate and snowball into twisted and over the top scenarios, the potential cash prizes decreases. 
Ad blocker interference detected!
Wikia is a free-to-use site that makes money from advertising. We have a modified experience for viewers using ad blockers

Wikia is not accessible if you've made further modifications. Remove the custom ad blocker rule(s) and the page will load as expected.