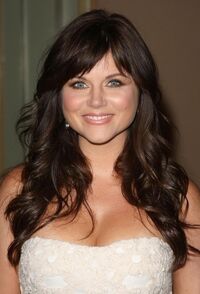 Tiffani-Amber Thiessen (born January 23, 1974) is an American actress. She is known for starring as Kelly Kapowski on NBC's Saved by the Bell (1989–93) and as Valerie Malone on Fox's Beverly Hills, 90210 (1994–98), two TV series that met with great success. Thiessen has also starred in other TV series such as Fox's Fastlane (2002–03), ABC's What About Brian (2007) and USA Network's White Collar (2009–14), as well as in a number of TV movies, and she has also appeared in several films like Son in Law (1993), Shriek If You Know What I Did Last Friday the Thirteenth (2000), Hollywood Ending (2002) and Cyborg Soldier (2008).
Ad blocker interference detected!
Wikia is a free-to-use site that makes money from advertising. We have a modified experience for viewers using ad blockers

Wikia is not accessible if you've made further modifications. Remove the custom ad blocker rule(s) and the page will load as expected.