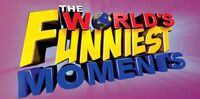 The World's Funniest Moments is a show similar to America's Funniest Home Videos and America's Funniest People, but it shows funny videos by people who submitted them online.
Broadcast
Edit
MyNetwork TV: 2008-2009
Syndicated: 2010-present
Associated Television International
Arsenio Hall 2008-2009
Erik Estrada & Laura McKenzie
Ad blocker interference detected!
Wikia is a free-to-use site that makes money from advertising. We have a modified experience for viewers using ad blockers

Wikia is not accessible if you've made further modifications. Remove the custom ad blocker rule(s) and the page will load as expected.