Host
Alex Trebek
Assistant
Mary Poms
Announcers
John Harlan (1973 pilot)
Sam Riddle
Charlie O'Donnell
Broadcast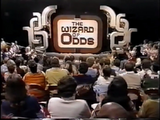 Pilot: 4/26/1973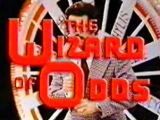 NBC Daytime: 7/16/1973 – 6/28/1974
Packager
Burt Sugarman Productions
OPENING SPIEL (PILOT): What are the odds that you know the intimate secrets of your favorite stars? What will average man reveal when he unbuttons his shirt? What are the odds that you kiss and tell more than the average girl, Lavonne? If you know the answers to any of these questions, the odds are, you can win up to $10,000 in cash and merchandise, playing The Wizard of Odds! And now, here's the wiley wizard himself, Alex Trebek!
The Wizard of Odds was an obscure 1970s show that was Alex Trebek's very first game show in the United States.
Originally, audience members answered questions based on statistics.
By May 20, 1974, the format was changed to show players a series of clues for things with numerical answers, with the players trying to pick the lowest amounts. Prizes were awarded based on the number of turns players remained under a target number.
The show's title is a spoof of the classic 1939 film The Wizard of Oz.

NBC Studio 4, Burbank, CA
Pilot – King Porter Stomp by Pat Williams
Stan Worth
Main – Written & Sung by Alan Thicke
YouTube Link
Edit