Host
David Bromstad
Broadcast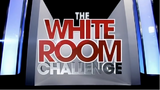 HGTV: 4/24/2012-10/26/2012
Packager
High Noon Entertainment
The White Room Challenge Features four challengers compete in the white room studio hoping to walk away as the contest's best designer and winner of $10,000.
For a shot at a $10,000 grand prize, some of the country's most successful designers and artist must design 10 by 10 white rooms using such outrageous elements as candy treats, dumpster-dived treasures or more than 1,500 flowers. While they will have the assistance of a carpenter, in the end, each contestant must impress an expert judging panel that features HGTV's Jamie Durie and a rotation of guest judges including veteran television designer Thom Filicia; Meg Caswell, HGTV Design Star season six winner and host of Meg's Great Rooms; Going Yard's Chris Lambton and Dina Manzo of Dina's Party.
Ad blocker interference detected!
Wikia is a free-to-use site that makes money from advertising. We have a modified experience for viewers using ad blockers

Wikia is not accessible if you've made further modifications. Remove the custom ad blocker rule(s) and the page will load as expected.