Ad blocker interference detected!
Wikia is a free-to-use site that makes money from advertising. We have a modified experience for viewers using ad blockers

Wikia is not accessible if you've made further modifications. Remove the custom ad blocker rule(s) and the page will load as expected.
Host
Carson Daly
Co-Hosts (Social Media)
Alison Haislip (1st Season)
Christina Milian (2nd Season)
Broadcast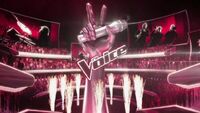 NBC: April 26, 2011–present
Packagers
Mark Burnett Productions/Talpa
Distributor
Warner Horizon Television
The Voice is a singing competition where only the voice of the person will be judged. Judges/Coaches will have their backs turned to the performers while they are competing so that only their voices can be heard.
Judges/Coaches
Edit
Christina Aguilera (Season 1-3, 5, 8, 10)
Adam Levine (Season 1-present)
Blake Shelton (Season 1-present)
Cee Lo Green(Season 1-3, 5)
Shakira (Season 4, 6)
Usher (Season 4, 6)
Pharrell Williams (Season 7, 8, 9, 10)
Gwen Stefani (Season 7, 9)
Miley Cyrus (Season 11)
Alicia Keys (Season 11)
Season 1 - Javier Colon (Team Adam)
Season 2 - Jermaine Paul (Team Blake)
Season 3 - Cassadee Pope (Team Blake)
Season 4 - Danielle Bradbury (Team Blake)
Season 5 - Tessanne Chin (Team Adam)
Season 6 - Josh Kaufman (Team Usher)
Season 7 - Craig Wayne Boyd (Team Blake)
Season 8 - Sawyer Fredericks (Team Pharrell)
Season 9 - Jordan Smith (Team Adam)
Season 10 - Alisan Porter (Team Christina)
Season 11 - TBD

Based on the Dutch show The Voice of Holland by John de Mol
Merchandise
Edit
A karaoke video game called The Voice: I Want You was released for the PS3, Xbox 360, Wii & Wii U on October 21, 2014.
In Popular Culture
Edit
The Voice was given a homage on Sesame Street, where the judges had to find a real voice.[1]
Saturday Night Live parodied The Voice in 2013 featuring Melissa McCarthy
The Voice was also parodied at the 2014 People's Choice Awards
Reference
Edit