Host
Eric Stonestreet
Mentor
Dylan Lauren
Judges
Aalyrah Caldwell
Noah Ritter
Sophia Grace Brownlee
Toby Grey
Broadcast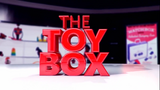 ABC: 4/7/2017-present
Packagers
Electus
Hudsun Media
Mattel
The Toy Box is a reality competition series where it features five passionate amateur investors who have put their hearts, souls and a lot of money into their unique toy concepts with hopes of impressing the mentors and making it to "The Toy Box" where young, no-nonsense judges determine if they will earn the chance to compete for the grand prize.
In each episode, inventors present their toy concepts to a group of mentors that include Dylan's Candy Bar owner Dylan Lauren, toy guru Jim Silver and Pixar Creative Director of Consumer Products Jen Tan. If the toy marker gets past the mentors, they will move on to The Toy Box where a panel of young, no-holds-barred judges that includes: Sophia Grace Brownlee, Aalyrah Caldwell, Toby Grey and Noah Ritter decide which toy moves on to the finals and eventually crowned the winner.
In Popular Culture
Edit
Mattel, which co-produced The Toy Box,, was the sponsor of ABC's Matty's Funday Funnies during the early 1960s, with the voice-over announcer telling boys and girls "You can tell it's Mattel... it's swell!"
Ad blocker interference detected!
Wikia is a free-to-use site that makes money from advertising. We have a modified experience for viewers using ad blockers

Wikia is not accessible if you've made further modifications. Remove the custom ad blocker rule(s) and the page will load as expected.