Hosts
Joey Fatone (NBC version)
Melissa Peterman (CMT version)
Broadcast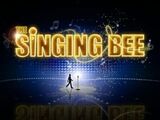 NBC: 7/10/07-12/28/07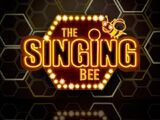 CMT: 6/16/09-7/23/12
Packagers
The Gurin Company
Juma Entertainment
The Singing Bee was a short-lived game show where contestants are tested on their musical capabilities by singing along to popular songs in other words it's the show where "You don't have to sing it well - You just have to sing right".
2007 Version
Edit
The series is a variety-competition show that challenges contestants to accurately sing the lyrics to popular songs, even the band stops playing. In this karaoke showdown, there's no middle ground for partially correct answers. Contestants must be perfect or they're out.
2009-2012 Version
Edit
Six lucky music lovers compete against each other by singing some of America's favorite songs for the chance to win $10,000. From classic country oldies to today's biggest radio hits.
Merchandise
Edit
A Board Game was released by Cardinal in 2007.
A DVD game was released by Imagination in 2007.
International Versions
Edit
Here are a list of countries where The Singing Bee was aired and had other versions:
Australia
Belgium
Brazil
Chile
Columbia
Ecuador
Denmark
Finland
Germany
Greece
Hungary
Iceland
Indonesia
Israel
Italy
Japan
Lebanon
Morocco
Netherlands
New Zealand
Norway
Phillipines
Portugal
Russia
Spain
Sweden
Turkey
Ukraine
UK
Spin-Offs
Edit
The Singing Office - Spinoff show aired on TLC in 2008
Phil Gurin & Bob Horowitz
(NBC Fatone era) Official Site
(CMT Peterman era) Official Site
Ad blocker interference detected!
Wikia is a free-to-use site that makes money from advertising. We have a modified experience for viewers using ad blockers

Wikia is not accessible if you've made further modifications. Remove the custom ad blocker rule(s) and the page will load as expected.