Broadcast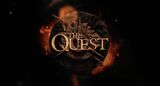 ABC: 7/31/2014 - 9/11/2014
Packagers
Profiles Television Productions
Court Five
Green Harbor Productions
The Quest is a new reality adventure that takes twelve lucky contestants on the journey of a lifetime when they enter the world of "Everealm".
For twelve lucky souls, a fantastic world will come alive in a unique competition series where players will engage in epic challenges where fantasy meets reality all the while conjuring a land of magic and malevolence and mythical creatures lurk in the woods, agents of darkness stir in the shadows and mystical beings infiltrate the keep, one player will emerge as a real-life hero.
12th Place - Katie Smaluk
11th Place - Ashley Guerrero
10th Place - Jim Curry
9th Place - Jasmine Kyle
8th Place - Christian Sochor
7th Place - Adria Kyne
6th Place - Leticia Reyes
5th Place - Bonnie Gordon
4th Place - Patrick Higgins
3rd Place - Shondo Blades
2nd Place - Andrew Frazer
Winner/One True Hero - Lina Carollo

Official Website
Official Facebook Page
Official Twitter Page
Ad blocker interference detected!
Wikia is a free-to-use site that makes money from advertising. We have a modified experience for viewers using ad blockers

Wikia is not accessible if you've made further modifications. Remove the custom ad blocker rule(s) and the page will load as expected.