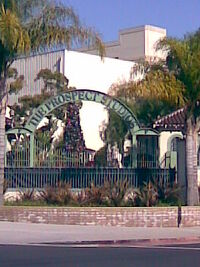 The Prospect Studios (also known as ABC Television Center [West]) are television studios located at 4151 Prospect Avenue, in the Los Feliz neighborhood of Los Angeles, CA. In addition to sitcoms, dramas, talk shows, ABC World News Tonight, the venerable American Bandstand and other programming, many game shows (ABC or not) were produced here. In the closing credits of many game shows, "Videotaped at ABC Television Center in Hollywood" appears before the copyright notice. Until December 1999, The Prospect Studios also housed KABC-TV. KABC moved to Glendale, CA. The original name is to not be confused with the ABC Television Center in New York.
Game Shows Produced Here
Edit
Family Feud
All-Star Blitz
Trivia Trap
Hollywood Squares
America's Funniest People
America's Funniest Home Videos
The Dating Game
Animal Crack-Ups
The Better Sex
About Faces
Break the Bank
Hot Seat
Let's Make a Deal
Love Connection
The Krypton Factor
Match Game
Password
Split Second
Double Talk

Ad blocker interference detected!
Wikia is a free-to-use site that makes money from advertising. We have a modified experience for viewers using ad blockers

Wikia is not accessible if you've made further modifications. Remove the custom ad blocker rule(s) and the page will load as expected.