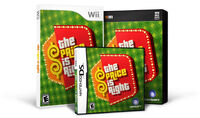 These are the many products/merchandise/goods that were brought to us due to the success of The Price is Right.
Board Games
Edit
Lowell (1958)
Edit
A board game based on the original 1956 version was released in 1958.
Milton Bradley (1964,1973-1974,1976,1986)
Edit
Another version was released in 1964 in a card game format.
Another board game based on the 1972 version was made in 1973 with a second edition made in 1974 and a third edition of the game was made in 1976.
the fourth and final edition was released in 1986.
Endless Games (1998, 2004)
Edit
Two home games were made in 1998 and 2004.
Video, Computer & Mobile Games
Edit
GameTek (1990)
Edit
A PC game for Commodore 64 and DOS was released in 1990 by GameTek. You can read about this awful adaptation of the game here.[1]
Ludia (2008-2012)
Edit
Games for the Wii, DS, PC, Mac, iPhone and iPod Touch[2]were released in 2008. Games for the Wii, DS, PC, iPhone, iPod Touch, iPad and Playstation 3's PSN as "The Price Is Right: 2010 Edition" were released from 2009-2010 (NOTE:The 2010 Edition of TPIR was re-released as part of their "Game Show Party" bundle pack along with "Family Feud:2010 Edition" and "Press Your Luck:2010 Edition" for Playstation 3's PSN in 2010). Games for the Wii. Xbox 360, Playstation 3's PSN, iPhone, iPod Touch, iPad and Android as "The Price Is Right Decades" were released from 2011-2012. all version of TPIR were made and have been released by Ludia. The cover of the 2008 version had Carey's version of the logo and the Season 36 background, but the whole game was based on Barker's era, complete with the 2003-2006 set and Shiela Cole-era theme song and music package.The app logo did have the 2002-2006 logo on it with the blue background, minus the stars and asterisks. The 2009-2010 edition was completely based on Carey's era, but the Shiela Cole-era theme song was still intact. Oddly enough, when playing the pricing games, the Season 36 Big Doors were seen, but in the Showcase Showdown, the Season 37-40 Big Doors were seen. The Turntables for Season 37 were also seen during the Showcase round. When TPIR Decades was released, the current Kalehoff Carey-era music package was featured on the game.
Original (2008)
Edit
2010 Edition (2009-2010)
Edit
Game Show Party (2010)
Edit
Decades (2011-2012)
Edit
Mobliss (2003-2007)
Edit
A mobile game of The Price is Right[3] was released in 2003.
...in addition, a mobile version of "Cliffhangers"[4]was released by Mobliss Inc. in 2004, along with a mobile version of "Plinko"[5]was released in 2005.
Prior to this, their was even a "Deluxe"[6]edition released in 2007.
Glu Mobile (2008)
Edit
Glu Mobile released a new version in 2008 which features Drew Carey on it's cover.
Ludia (2014)
Edit
On April 23, 2014 a mobile app version of The Price is Right Bingo was released for iOs and Android devices.
Electronic Games
Edit
Tiger Electronics (1998)
Edit
A Handheld Game was released in 1998[7][8][9].
Irwin Toys (2008)
Edit
A Tabletop Game was released in 2008.
Jakks Pacific (2009)
Edit
A plug n' play game was released in 2009.
Online Games
Edit
CBS (Late 90's)
Edit
CBS.com featured an online Price Is Right-based game in the late 90s, which was plugged in the closing credits of each episode. The game consisted of choosing which of the four bidders in contestant's row was closest to the price without going over.
Ludia (2010, 2013)
Edit
A Facebook Game based on the show was released by Ludia in 2010, the game has two million monthly active users in just only two months after its launch. Prior to this, a "Bingo" version of TPIR was recently launched in 2013.[10][11]
Gamesville (2002)
Edit
In 2002, Lycos Gamesville launched their online version of TPIR for a chance to win up to $1,000 in cash.
GameShow24.com (2004)
Edit
In 2004, GameShow24.com had an online flash game called The Hometown Price Is Right along with Card Sharks and the other two unreleased game show-based games of Let's Make A Deal and Press Your Luck.[12]
Worldwinner (2008)
Edit
In 2008, an online cash game was released by Worldwinner, where your goal is to score as many points as possible in three distinct rounds. First you'll start in Contestant's Row, where you need to confirm your player's intial Thought Bubble bid by clicking on matching amounts (ex: if they think $157, then click on all "$175" bubbles). Next Up, play Cliffhangers, Plinko or Punch-A-Bunch in the Pricing Games round. in this segment, you need to match 3 or more pieces vertically or horizontally to change the tile's background color. Charge the color of all the tiles for extra points! Finally, you're on to the Showcase round. Help your player make a successful bid by matching two tiles to remove them from the board, remove all tiles for bonus points!
Slot Machines
Edit
A series a very popular slot machines were manufactured for North American casinos by IGT...[13][14][15][16][17][18][19][20][21][22][23][24][25][26]
...and by WMS Gaming much later on.

In 2012, A Facebook game called TPIR Slots was released by Ludia, prior to this and iOS version was released as well.
DVD Games & Movies
Edit
Endless Games/Imagination (2005, 2008)
Edit
DVD games were originall released in 2005 and 2008 in two editions by Endless Games. the DVD game was re-released by Imagination later on.
Prototype Box Covers
BCI (2008)
Edit
A DVD compilation set featuring 20 episodes was released in 2008, including 6 episodes from the original version starring Bill Cullen. A sequel set, titled "The VERY Best of The Price Is Right", contains only 14 of the 26 episodes from the original set.
Cancelled Games
Edit
The Great Game Company (1983)
Edit
An Atari 2600 and Mattel's Intellivision video game based on the 1972 version was going to be released by The Great Game Company in 1983. However, due to the North American video game crash of 1983, it was never made nor released to the public.
GameTek (1987, 1992)
Edit
A planned NES game was going to be released in 1987. SNES/Genesis/Game Gear video games based on the 1972 version were also going to get released as well in 1992, but all of the games were cancelled.
Phillips Interactive Media (1993)
Edit
TPIR was planned for the CD-i along with Jeopardy!, Wheel of Fortune, Name That Tune, The Joker's Wild and The Joker's Wild Jr., All were released except for Wheel and TPIR.
Silicon Gaming (2000)
Edit
Due to the mild success of Family Feud slots at the MGM Grand in 2000, a slot machine game based on TPIR was originally going to be released by them and installed at various Harrah's casinos at the time. However, the concepts of the game have segwayed itself as 5 Reel with Plinko, Match Three and Spin & Win Fruity for various online casinos in the UK such as Virgin Casino and Blue Sq Casino.[27]
Endless Games (2008)
Edit
A Quick Picks travel game with Drew Carey on the cover was promoted in their 2008 catalogue, but was never released.[28]
Harper Paperbacks (2007)
Edit
An "Behind-the-Scenes" book called Come on Down!: Behind the Big Doors at The Price is Right was written by Stan Blits and was published by Harper Paperbacks in 2007.
Center Street (2009)
Edit
An autobiographical book about Bob Barker called Priceless Memories was published by Center Street in 2009.
The R Group (2014)
Edit
In June 2014 ex-Barker Beauty Kathleen Bradley released her memoir Backstage at The Price is Right: Memoirs of a Barker Beauty published by The R Group in 2014. In her book, Bradley shares her memories, backstage secrets and even some tensed and intense moments she witnessed during her ten years on the show. Bradley also shares her memories of her early life, her family and the memories of her singing career with the group The Love Machine. The book is available in either Hard book or paperback and can be ordered at her official website[29]and is also believed to be a "best-seller".
Pinball game
Edit
In 1994, a rare Tabletop Pinball game was released in order to promote the "ill-fated" nighttime syndicated version with Doug Davidson at the time. The game includes: an electrical cord, a promotional booklet with photos/slides along with three radio jingles on reel-to-reel tapes.
Novelty Goods
Edit
An official online store with many TPIR novelty items was started in 2009. (NOTE:The link is at the bottom of this page.)
A Day-to-Day calendar was released by Andrews McMeel publishing in 2010, with Drew Carey on the box.
A bobblehead doll of Drew Carey can be purchased at CBS.com.
A ticket redemption game based on Shell Game was released by ICE in 2011, prior to this, a few "coin pusher" games have also been released in 2008 and 2009 respectively.
Print Ad (2009)
Edit
Various scratch-off lottery tickets have been released based on the show.
Various T-Shirts have been released based on the show.
International Merchandise
Edit
Australia
Edit
(1990's era)
Edit
(2000's era)
Edit
(Le Juste Euro era)Edit
Netherlands
Edit
References
Edit
Ad blocker interference detected!
Wikia is a free-to-use site that makes money from advertising. We have a modified experience for viewers using ad blockers

Wikia is not accessible if you've made further modifications. Remove the custom ad blocker rule(s) and the page will load as expected.