Host
Clark Race
Announcers
Charlie O'Donnell (1972 pilot)
Johnny Jacobs (1972-73 series)
Broadcast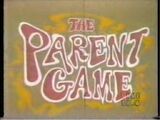 Unsold Pilot for NBC: 1969
Syndication (Weekly): 9/4/1972 – 9/1973
Packager
Chuck Barris Productions
OPENING SPIELS:
O'Donnell version (first episode only): From Hollywood, it's "The Parent Game"! And here's the star of "The Parent Game", your host, Clark Race!
Jacobs version (rest of run): From Hollywood, it's "The Parent Game"! And now, here's your host and star of "The Parent Game", Clark Race!
The Parent Game is the show where couples answered questions about parenting.
Host Race would ask three couples a series of multiple-choice questions about how to parent their children. Their job was to match answers with a resident child psychologist. Each time they did that, they earned points.
Each game consisted of five questions. On the first four questions, each player on each team answered individually. On the final question, all three couples must agree and come up with a team answer.
Here's how the scoring works:
Questions 1 & 2 - 5 points (10 for agreement)
Question 3 - 10 points (20 for agreement)
Question 4 - 15 points (30 for agreement)
Final Question - 30 points
Altogether, they total a perfect score of 55 for disagreement on the first four questions, and 100 for agreement on the first four questions.
The couple with the most points wins the game, and wins a grand prize. Should the game end in a tie, the tiebreaker rules used on The Newlywed Game came into effect. The closest guess won the grand prize.
Lee Ringuette
Inventors
Edit
Chuck Barris, Barry Abel, & Gary Jonke
Flyer Ads
Edit
"Thank you for watching and join us next time on The Parent Game where we once again prove that it's not kids who say the darnedest things, it's their parents. Thank you and good night!" - Clark Race
Josh Rebich's Parent Game Rule Sheet (deadlink)
YouTube Videos
Edit
Clips of the 1972 premiere (also the aired pilot): intro, first 7:30 of gameplay
Ad blocker interference detected!
Wikia is a free-to-use site that makes money from advertising. We have a modified experience for viewers using ad blockers

Wikia is not accessible if you've made further modifications. Remove the custom ad blocker rule(s) and the page will load as expected.