Host
Michele Merkin
Judges
Jeffrey Ross
Elon Gould
Lisa Ann Walter
Broadcast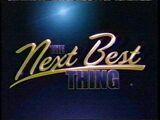 ABC: 5/30/2007 - 7/25/2007
Packagers
New Wave Entertainment
Peter Engel Productions
The Next Best Thing: Who is The Greatest Celebrity Impersonator? (or The Next Best Thing) was a short-lived eight episode reality series where Celebrity Impersonators competed for the chance at a $100,000 grand prize.
In each episode, a panel of popular well-known judges (Jeffrey Ross, Elon Gould and Lisa Ann Walter) will use their razor-sharp wit and comedic skills as they evaluate, critique and sometimes skewer celebrity impersonators based on how much they look, sound and act like the celebrities they're impersonating. The judges will determine who will go on to compete in the next round of auditions, while America will vote for the final winning impersonator through a viewer voting system. The winner will receive a grand prize of $100,000.

The 10 finalists of season 1 included two Elvis Presley impersonators; to reduce confusion, they were named "Blue Suede Elvis" (Donny Edwards) and "Heartbreak Elvis" (Trent Carlini) after the songs "Blue Suede Shoes" and "Heartbreak Hotel".
Singer Little Richard appeared as a "Surprise Celebrity Guest" in the last episode of season 1 (#108).
Ad blocker interference detected!
Wikia is a free-to-use site that makes money from advertising. We have a modified experience for viewers using ad blockers

Wikia is not accessible if you've made further modifications. Remove the custom ad blocker rule(s) and the page will load as expected.