Hosts
Bob Hilton
Don Galloway
Announcers
Charlie O'Donnell
Tony McClay
Broadcast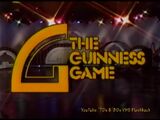 Syndication (Weekly): 9/17/1979 - 9/1980
Packagers
David Paradine Television Productions
Hill-Eubanks Productions
20th Century Fox Television
Distributor
Ogilvy & Mather, Inc.
The Guinness Game was a short-lived syndicated game show based on The Guinness Book of World Records.
Three studio contestants tried to predict if a record-breaking stunt, performed live on the show, could be accomplished (ex: "Can five men change four tires on a car without a jack, in two minutes or less?"). Each player started with $1,000 and could bet up to ninety percent of his or her bankroll. The player with the most money after three rounds won the game and played a fourth round for a bonus prize.
The maximum possible cash a player could win was $6,859, assuming s/he placed a maximum bet on each stunt and was correct all three times.
Main - "Tickler" by Charles Fox (also used in The Moneymaze)
Prize - "Bean Bag" by Herb Alpert (also used in the UK Game Show It's a Knockout)
New York - WNBC
Los Angeles - KNBC
Chicago - WMAQ
San Francisco - KPIX
Houston - KPRC
Sacramento - KOVR
St. Louis - KTVI
Louisville - WHAS
Lexington - WKYT

YouTube Link
Edit
Ad blocker interference detected!
Wikia is a free-to-use site that makes money from advertising. We have a modified experience for viewers using ad blockers

Wikia is not accessible if you've made further modifications. Remove the custom ad blocker rule(s) and the page will load as expected.