Host
Hal Linden
Broadcast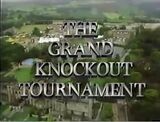 USA Network: August 12, 1987
Packagers
British Broadcasting Corporation (BBC)
Knockout Ltd.
The Grand Knockout Tournament was a two hour special featuring members of the British Royal Family as team captains and a whole slew of celebrities competing in a tournament of many zany stunts.
As mentioned above, the special featured members of the British Royal Family alongside various sporting and showbiz celebrities, the celebrity participants were drawn from the realms of music, sports, television, comedy and film.
Prince Edward Team (on behalf of the Duke of Edinburgh Award)
Edit
Toyah Wilcox
Barry McGuigan
Christopher Reeve
Steve Cram
Tessa Sanderson
Sarah Hardcastle
John Cleese
Nicholas Lyndhurst
Dame Kiri Te Kanawa
Duncan Goodhew
Sharon McPeake
The Princess Royal's Team (on behalf of Save the Children)
Edit
Debbie Flintoff
Cliff Richard
Emlyn Hughes
Jenny Agutter
Kevin Kline
Jackie Stewart
Eddy Grant
Peter Blake
Walter Payton
Virgina Leng
Sunil Gavaskar
Anthony Andrews
Tom Jones
Sheena Easton
The Duke of York's Team (on behalf of World Wildlife Fund [WWF])
Edit
Judy Simpson
Anneaka Rice
Flona Fullerton
Gary Lineker
George Lazenby
Michael Palin
Nigel Mansell
John Travolta
Griff Rhys Jones
Margot Kidder
Steve Podborski
The Duchess of York's Team (on behalf of The International Year of Shelter for the Homeless, 1987)
Edit
Tamara McKinney
Meat Loaf
Pamela Stephenson
Brian Cooper
Mel Smith
Jane Seymour
Chris de Burgh
Viv Richards
Gail Greenhough
Michael Brandon
Ben Cross
Steve Cauthen
The tournament was won by The Princess Royal's Team with the Duke of York's team second, Prince Edward's Team third and the Duchess of York's team last.
The special was aired as a "USA Premiere Event".
The special was also aired in the United Kingdom on BBC 1 on 19 June 1987 (June 19, 1987) hosted by Stuart Hall, Les Dawson and Su Pollard.
Based on the French show Intervilles by Guy Lux. The UK had a long-running version called It's a Knockout!, of which this was effectively a celebrity special.
Ad blocker interference detected!
Wikia is a free-to-use site that makes money from advertising. We have a modified experience for viewers using ad blockers

Wikia is not accessible if you've made further modifications. Remove the custom ad blocker rule(s) and the page will load as expected.