Host
Bob Barker
Announcers
Scott Beach
Johnny Jacobs (sub)
Roy Rowan
Broadcast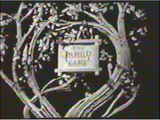 ABC Daytime: 6/19/1967 – 12/1/1967
Packager
Chuck Barris Productions
"From Hollywood, it's The Family Game! Now let's meet our families for today: (Family #1/#2/#3) are the (Insert name of the family and funny fact). Those are our families for today, and now, here's our host, the star of The Family Game, Bob Barker!"
The Family Game was a family game show similar to The Newlywed Game.
Three family teams of four, consisting of the parents (Mom & Dad) and their two children (ages 6-11), competed in this short-lived game show. Just like in The Newlywed Game, their objective was to match their answers and score points.
In Round 1, the younger kids were asked three questions while their parents were off stage. The parents returned and the mothers responded to the same questions. Each match was worth 10 points.
In Round 2, the parents left the stage again; only this time older kids were asked four questions. When the parents came back, the fathers tried to match their kids answers on the first three questions, then later both parents tried to match on the final question which was a bonus question. The first three questions were worth 15 points, and the bonus question was worth 25 points.
---
The family with the most points at the end of the game, won a grand prize.
Merchandise
Edit
A board game was released by Hasbro in 1967.
The Family Game was originally going to end in October 1967, with How's Your Mother-In-Law? replacing it. However, a NABET strike resulted in the latter being postponed to December 4, leading ABC to air repeats of Family in the slot.
The show, and a recreation of its set, makes a brief appearance in the 2002 film Confessions of a Dangerous Mind, based on Chuck Barris' book of the same name.
ABC Television Center, Los Angels, CA
Similar Shows
Edit
2nd Honeymoon
I Can't Believe You Said That!
The Family Game at Board Game Geek
YouTube Videos
Edit
A full episode from 1967 (end-of-game prize reveal and closing credits missing):
Part 1
Part 2
A full episode from September 7, 1967 (repeat broadcast from November 9, 1967)