Host
George Hamiliton
Broadcast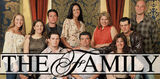 ABC: 3/4/2003-9/10/2003
Packager
Arnold Shapiro Productions
The Family was a short-lived reality television series that aired on ABC spanning one season in 2003. It starred ten members from an Italian-American family who were each fighting for a $1,000,000 prize.
Keep in mind, that this is not to be confused with the 2016 mystery thriller series of the same name on the same network.
Ten family members from New York City were removed from their daily lives and moved into a mansion in Wellington, Florida. The house was fully furnished and came with a full staff of multiple maids, butlers, and a full cooking staff.
Each week, the contestants played reward challenges and elimination contests. The elimination contests determined the two people who would be up for elimination from play. The elimination worked by gathering a secret Board of Trustees and making a decision on which member should be eliminated. The Board of Trustees, unbeknownst to the family itself, comprised the house's maids, servants, and other workers. The Board usually chose to eliminate the family member who they felt was less deserving of the money. The family member who was eliminated, however, was allowed to remain in the house, but not allowed to participate in "family activities". The prize that they are trying to win is $1,000,000. The winner receives the million dollars.
The show also aired in reruns on Fox Family Channel from 2003 until 2010.
Ad blocker interference detected!
Wikia is a free-to-use site that makes money from advertising. We have a modified experience for viewers using ad blockers

Wikia is not accessible if you've made further modifications. Remove the custom ad blocker rule(s) and the page will load as expected.