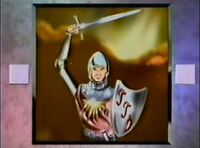 The Dragon Slayer (or Knight) was a fictional character from the 90s version of Tic Tac Dough. He is usually seen in the bonus round holding a shield and sword.
Background
Edit
While the Dragon continues to burn all of the money earned by the contestant when found, the Dragon Slayer triggered an instant win and doubled the money and awarded a prize package; if found on the first pick was worth $1,000. In addition, beginning about seven weeks in the show's run, the Dragon Slayer described his purpose in a short rap as he was introduced by host Patrick Wayne.
Show appeared
Edit
Tic Tac Dough (1990-1991)
Ad blocker interference detected!
Wikia is a free-to-use site that makes money from advertising. We have a modified experience for viewers using ad blockers

Wikia is not accessible if you've made further modifications. Remove the custom ad blocker rule(s) and the page will load as expected.