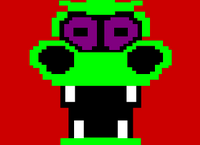 The Dragon is a fictional character from the 1970s and 1990s game show Tic Tac Dough. The Dragon usually appears in the show's bonus round as "Beat The Dragon".
At one time, host Wink Martindale gave away t-shirts with the dragon on them.
Background
Edit
(70's version)
Edit
If the dragon appeared in any of the nine boxes, it ended the round and lost all the money in the pot. In addition, the same prize package would be at stake for the entire episode until it was won.
(90's version)
Edit
Like its predecessor, finding the dragon would end the round and cost the contestant everything he/she won up to that point. In addition, beginning about seven weeks into the run, the dragon described its purpose as a short rap as it was introduced by Patrick Wayne.
In 1994, The Dragon appeared in the CD-i video game The Joker's Wild Jr. despite not appearing on The Joker's Wild and/or Joker! Joker!! Joker!!! respectively.
Ad blocker interference detected!
Wikia is a free-to-use site that makes money from advertising. We have a modified experience for viewers using ad blockers

Wikia is not accessible if you've made further modifications. Remove the custom ad blocker rule(s) and the page will load as expected.