Hosts
Randy Merriman (1951-1957)
Robert "Bob" Paige (1957-1959, 1962)
Bert Parks (1959)
Sub-Hosts
Bobby Sherwood
Warren Hull
Ralph Paul
Bob Haymes
Jimmy Blaine
Hostess
Bess Myerson
Sub-Hostess
Hollis Burke
Sydney Smith
Announcer
Ralph Paul
Mort Laurence
Models
Pat Conlon
Nancy Walters
Marion James
Pat Conway
Fran Miller
Broadcast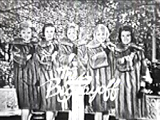 NBC Daytime: 12/31/1951 - 3/27/1953
NBC Primetime: 6/29/1952 - 9/14/1952, 6/21/1953 - 9/27/1953
CBS Daytime: 3/30/1953 - 10/16/1959
Syndication: 1962
Packager
Walt Framer Productions
The Big Payoff was a quiz game show where contestants would have a chance to win prizes.
Contestants were selected from men who mailed in letters explaining why the women in their lives deserved prizes. The men were asked up to four questions (delivered on a silver tray by "Question Girl" Susan Sayers) for luxurious prizes like jewelry, appliances, and other prizes. If he correctly answered all of the first three questions, he would be asked a Payoff Question which would win the couple a mink coat and a trip aboard Pan American Airlines (later KLM Royal Dutch).
During the daytime edition's final three weeks, the format changed to three couples competing in a guessing game for points. After three questions, the couple with the highest score answered the Payoff Question. For the 1962 revival, there were only two couples.
"A Pretty Girl Is Like A Melody (Theme Song)" - Irving Berlin
Vocals - Betty Ann Grove, Denise Lor, and Judy Lynn

Ad blocker interference detected!
Wikia is a free-to-use site that makes money from advertising. We have a modified experience for viewers using ad blockers

Wikia is not accessible if you've made further modifications. Remove the custom ad blocker rule(s) and the page will load as expected.