Host
Andy Dick
Broadcast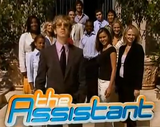 MTV: 7/12/04-8/30/04
Packagers
Super Delicious Productions
Music Television (MTV)
The Assistant
is a spoof of several reality shows (most obviously being the Apprentice) as the show centered around several young men and women trying to win money, a brand new car, and the chance to be Andy Dick's assistant.
Catchphrase
Edit
"You have been *snit, snit, snit* clipped!"-Andy Dick
The series was a parody of other reality shows such as The Apprentice, The Bachelor, The Bachelorette, Survivor, American Idol and Fear Factor.
In the first episode of the series the show parodied Who Wants to Be a Millionaire as Who Wants To Be Andy's Assistant.