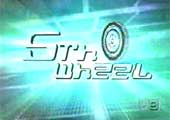 The 5th Wheel was a dating show where two dating couples are sent out on a joint date, only to have a 5th person (an extra man or woman) join the group. In the end, everyone has to vote with whom he/she wants to go out, even with the option to choose nobody.
Broadcast
Edit
Syndication: 2001–2004
Bobwell Productions (Renegade division)
Distributor
Edit
NBC Universal Television Distribution
Aisha Tyler (2001–2002)
Tom Gottlieb (2002–2004) [as a voice over]
The show would begin with two men and two women, all of whom were sent out on a joint date. Then a provocative 5th man or woman (hence, "the fifth wheel") would join the group. At that point the participants would swap partners to learn more about them and to decide if they would like to go out with each other. The cameras would follow their every move, while commentary in the form of subtitles, animations, and "thought bubbles" (similar to the style used in Pop-Up Video) was added by the show's producers. At the end, they would all vote on whom they would like to go out with, and an option of choosing "nobody" as well.

Ad blocker interference detected!
Wikia is a free-to-use site that makes money from advertising. We have a modified experience for viewers using ad blockers

Wikia is not accessible if you've made further modifications. Remove the custom ad blocker rule(s) and the page will load as expected.