Host
Dan Cortese
Broadcast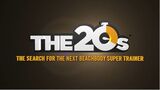 Pop: 8/15/2016 - present
Packager
Beachbody
The 20s: The Search for the Next Beachbody Super Trainer is a reality fitness competition series where each of "The 20s" hails from a different fitness background and was chosen to join this reality contest for his or her unique personality and ability to help people get healthy and fit.
Every week, contestants will put their skills to the test in a new challenge as they compete to turn their dreams of super trainer stardom to reality. Along the way, they'll get advice from industry pros sharing their own secrets of success. Worthy contestants will create and star in two original 20-minute workouts that will be judged, in part, by voters on Beachbody on demand. In October, one winner will be crowned with the title of "Super Trainer" at which point they will officially join the Beachbody family and start helping people around the world with their own fitness journey.
After premiering on their website Beachbody on Demand on August 8, 2016. New episodes of the show would premiere on Pop one week later on August 15, 2016. In addition, subsequent episodes would also debut on every Monday on Beachbody on Demand for Members only and then premiere one week later on Pop for the public.
Subsite of the show courtesy by Beachbody
Official Website courtesy by Beachbody
Ad blocker interference detected!
Wikia is a free-to-use site that makes money from advertising. We have a modified experience for viewers using ad blockers

Wikia is not accessible if you've made further modifications. Remove the custom ad blocker rule(s) and the page will load as expected.