Host/Bachelor
Domenico Nesci
Broadcast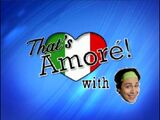 MTV: 2/2/2008 – 4/6/2008
Packager
495 Productions
Distribution
MTV Entertainment
"This is an article for the short-lived 2008 MTV spinoff show. For the short-lived 1992-93 Syndicated series, see That's Amore (1)"
That's Amore! was a short-lived spinoff of A Shot at Love with Tila Tequila in which fifteen women are vying for the affection of Domenico's heart.
Similar to A Shot at Love, fifteen women competed for Domenico's heart in a series of challenges. Either in teams or individuals as Nesci's deliberates with Ashley his consigliere near the end of the episode and an elimination ceremony takes place. During elimination, Nesci calls forward the women that he chooses to remain in the mansion and present them with an Italian flag while asking "Will You Be My Bambina?".

The term "Consigliere" means "an advisier", mostly to a crime boss.
The term "Bambina" means "Little Girl".
The sole winner of this series was Megan Mirilovich. Additionally, she and Nesci didn't stay together which was reported in an April 2008 issue of In Touch Weekly magazine. It said that they just moved on with their lives.
Mirilovich claimed that their wasn't really any spark between them; however, they still remain close friends.
Related Shows
Edit
A Shot at Love With Tila Tequila
A Double Shot at Love with the Ikki Twins