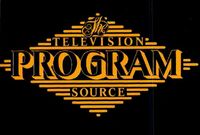 The Television Program Source was founded on October 15, 1984 as a joint venture between Alan Bennett, former King World president Robert King, and Columbia Pictures Television. In 1986, The Coca-Cola Company created "Coca-Cola Television" and merged The Television Program Source with CPT's distribution division and renamed TPS as Coca-Cola Telecommunications. The company was later folded into Columbia Pictures Television Distribution (now Sony Pictures Television).
Shows Produced
Edit
Ad blocker interference detected!
Wikia is a free-to-use site that makes money from advertising. We have a modified experience for viewers using ad blockers

Wikia is not accessible if you've made further modifications. Remove the custom ad blocker rule(s) and the page will load as expected.