1974-84 OPENING: "(From Television City in Hollywood) Everyone in (this arena)/(the Studio Audience at CBS Television City in Hollywood) has a money stake in one of our famous couples. Rooting section #1/The Red Section has their money on (insert couple), rooting section #2/The Yellow Section is backing on (insert couple) & rooting section #3/The Blue Section has their money on (insert couple). (1983-1984: Places Please!) As we play the game of celebrity gossip... TATTLETALES! And now, here's the star of TattleTales, BERT CONVY!"
1982-1983 OPENING: "From Television City in Hollywood, it's TATTLETALES! Welcome to the game of celebrity gossip...TattleTales! And now, here's the star of TattleTales, BERT CONVY!"
TattleTales featured celebrity couples telling about their lives together as well as some of their hobbies, their lifestyles, and maybe reveal some dirty little secrets. While they were doing it, they were playing for money for their respective rooting section: red, yellow (banana), and blue. This version itself is a reboot of a short-lived Goodson-Todman produced game show called He Said, She Said.
The game was played in two halves: in each half, one half of the couples (all of the same sex) wore headphones and sat in an enclosed room on the left of the set and were being viewed by television monitors while the other half sat behind the playing desk in front of the audience. The show went through two formats.
1st Format
Edit
Bert read a question to the spouses sitting at the desk. A spouse would then buzz-in to answer that question and give a one-word or two-word clue to the answer that he/she thought the mate would recognize. The isolated mates' monitors would then be turned on and Bert would then repeat the question followed by the clue. The mate would then buzz-in (using a buzzer of his/her own) if he/she thought his/her spouse gave that clue and gave his/her answer. If it matched the spouse's answer, the couple won money for their rooting section according to how long the clue is (one-word clue $100, two-word clue $50). Two questions of that type were asked.
After those two questions, Bert then read a mini multiple choice question called the "Tattletale Quickie". Each spouse in turn answered the question. Then after each spouse gave an answer, the isolated mates gave their own answers and if they matched, they won $100 for their rooting section.
2nd Format
Edit
In June 1974, the format was changed to have all "Tattletale Quickies" for the entire show. Because of the new format, they didn't need to call them "Tattletale Quickies" anymore. Also the scoring format changed; each question had a cash pot of $150 with the money split between 2 or all 3 couples if they get it right. If all 3 matched they win $50, if 2 of the couples matched they win $75, but if only 1 couple matched that couple wins the full cash pot of $150. If no couple made a match, the money was carried over into the next question. Four questions (sometimes more in case of extra time) were asked with the roles reversed after the first two and the final question was worth double $300 to the only 1 couple who matched, $150 for 2 couples and $100 for all 3.
Money for Rooting Sections
Edit
In all of the CBS-TV period, All 3 "Rooting sections" (one-third of the studio audience, divided into the colors of red, yellow (sometimes nicknamed "banana"), and blue) divided the money their respective couples win for them. The couple with the most money at the end of the show wins the game, earning their rooting section a bonus of $1000. If the game ended in a tie between 2 or among all 3 couples, the bonus is split ($500 for 2 rooting sections & $334 for all 3).
Cash prizes on game shows are typically awarded to contestants in the form of a check, mailed weeks after a show has been taped. Because of the impracticality (e.g., postal costs) of doing this for an entire studio audience, Tattletales kept a check-cutting machine in the studio and distributed the money to the audience members on their way out immediately after the show.

1974 - Edd Kalehoff (two unused think cues from this version were recycled into Match Game)
1982 - Jonathan Segal & Gary Anderson for Score Productions
Inventors
Edit
Mark Goodson & Bill Todman - based off a previous show, He Said She Said.
CBS Television City, Hollywood, California
Set Drawings
Edit
The 1977-78 syndicated version never aired on GSN, possibly because Bob and Ginny Newhart didn't want their appearances cleared, and they were on several episodes of the syndicated version. 80scommercialvault posted the last 13 seconds of a Tattletales syndicated episode from 11/28/1977 with Richard Dawson on the panel, but not the Newharts. The syndicated version was distributed by Firestone syndication, who syndicated Perry Card Sharks reruns, Blockbusters reruns, and most of the Chuck Barris syndicated shows of the 70s. The syndicated Tattletales was copyrighted Panel Productions.
A board game adaptation was planned by Hasbro for release in 1978, but was scrapped (presumably because the show ended that year).
In Popular Culture
Edit
The show was once satirized in a first season episode of the Canadian sketch-comedy show called SCTV as Celebrity Tattletales. The spoof featured Bert Convy (played by Eugene Levy) being asked questions to Prince Phillip (played by Joe Flaherty) and Queen Elizabeth (played by Catherine O'Hara) about their personal lives.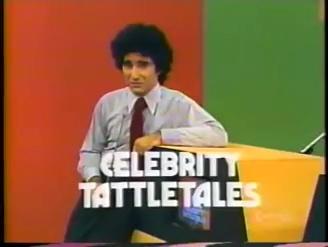 Show Ending
Edit
"This is (announcer's name) speaking for Tattletales, a Mark Goodson(/Bill Todman or Television) Production. (One or both of the following may be added if needed: This program has been edited for broadcast. Stay tuned for (show name) next over most of these CBS stations.)"
The Unofficial TattleTales Page (Archived)
The TattleTales home game that wasn't
Ad blocker interference detected!
Wikia is a free-to-use site that makes money from advertising. We have a modified experience for viewers using ad blockers

Wikia is not accessible if you've made further modifications. Remove the custom ad blocker rule(s) and the page will load as expected.