Host
Don McNeill
Announcer
Fred Kasper
Broadcast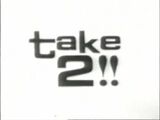 ABC Daytime: 5/5/1963 - 8/11/1963
Packager
Ray-Eye Productions
"It's time to play TAKE 2!!, the picture game and prizes. Brought to you by United States Gypsum, building quality for better buildings, and starring Don McNeill. and now, here's Don!"
Take 2!! (or Take Two) was a short-lived picture puzzle game show.
Four pictures were flashed on a screen (ex: Marilyn Monroe, Jayne Mansfield, Amy Vanderbilt, a cat). The first team to ring-in and identify the related items (ex: Jayne and Marilyn were actresses) won the round and scored points. The highest-scoring team won prizes for members of the studio audience.
Originally, the show was an all-celebrity game with four celebs playing in two teams. After a few weeks, the format was altered to use two celebrities and two studio contestants.
This show originated in Chicago, Illinois.
Among the celebrities who played were Phyllis Diller, Bob Hope, Hedda Hopper and Jerry Lester.
Host Don McNeill was host of the long-running ABC Radio series The Breakfast Club, which ran from 1953 until 1969.
YouTube Video
Edit
Ad blocker interference detected!
Wikia is a free-to-use site that makes money from advertising. We have a modified experience for viewers using ad blockers

Wikia is not accessible if you've made further modifications. Remove the custom ad blocker rule(s) and the page will load as expected.