Hosts
Richard Dawson (As Narrator/Special #1)
Richard Karn (As Host/Special #2)
Broadcast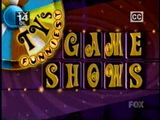 FOX Primetime Specials: 2/2000 - 11/2002
Packager
Brad Lachman Productions
TV's Funniest Game Shows was a special airing on FOX in 2000 and 2002.
Like the ABC special this program chronicles the funniest moments on television game shows; only here unlike the ABC special where it focused on only Goodson-Todman game shows, it focused on game shows from different production companies from around the world.
List of Shows
Edit
United States
Edit
United Kingdom
Edit
Don't Forget Your Toothbrush
Prickly Heat
Beat the Crusher
Live! Live! Live! Downtown
Australia
Edit
Dehaene Concertation
The 2002-2005 set of Family Feud was used as a set for the second special in 2002.
YouTube Videos
Edit
The first special:
Ad blocker interference detected!
Wikia is a free-to-use site that makes money from advertising. We have a modified experience for viewers using ad blockers

Wikia is not accessible if you've made further modifications. Remove the custom ad blocker rule(s) and the page will load as expected.