Host
Ron Ben-Israel
Broadcast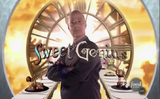 Food Network: 9/22/2011-1/24/2013
Packager
Jane Street Entertainment
"I am a world-renowned cake master. My magical deserts have created a million-dollar cake empire. You can say I was born with a certain...genius. I'm on a mission, to find chefs who share my obsession with confection. 4 chefs must be astonishingly creative with the ingredients and the inspiration I have chosen. Only 1 will surpass them all, and earn $10,000. I am a Sweet Genius! Are you?"
Sweet Genius is the competition in which four chefs make deserts for a chance to win $10,000.
4 chefs compete in 3 tests (frozen, baked and chocolate in season 1; chocolate, candy and cake in season 2). Before each test, host Ron gives them a mandatory ingredient that must be included in their desert, then gives them an inspiration to build their deserts on. All chefs have 40 minutes in test 1, 50 minutes in test 2, and 60 minutes (1 hour) in the final test. In the middle of a test, the host will give the chefs another mandatory ingredient that must be included in their deserts (rarely, he will give them a third ingredient). After each test, the host will taste each desert and critique the chefs on the taste, creativity, and how well the inspiration is presented. After this, the host will eliminate each chef (by saying, "You are no sweet genius"), but he tells the winner, "You are a sweet genius."
Season 2 Changes
Edit
the computerized voice that described the host, ingredients, and inspirations was removed
the host is introduced before the chefs are
the tests are now chocolate, candy, and cake (chocolate is the only test kept from season 1).
the host now breaks the fourth wall (he talks to the home audience) describing the ingredients, and his views on the chefs in the tests.
Catchphrase
Edit
"In that test, you were no sweet genius!"
On one occasion, Ben-Israel decided to use himself as an inspiration to see if the chefs knew his likes and dislikes.
Host Ben-Israel later went on to become one of the judges on Halloween Baking Championship since 2015.
Ad blocker interference detected!
Wikia is a free-to-use site that makes money from advertising. We have a modified experience for viewers using ad blockers

Wikia is not accessible if you've made further modifications. Remove the custom ad blocker rule(s) and the page will load as expected.